CAS MSPS
Data and Network Security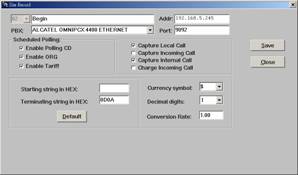 All captured information will be stored in both server and client, eliminating the need for backup machines. CAS MSPS also provides a traffic history and file transfer log occurring in the network. This allows you to trace abnormal activity and quickly detect any fraud condition, which will mean tremendous amount of saving for you.
Centralized Billing System
It can integrate any PBX network across a TCP/IP platform, even with different kinds of PBX, by polling call records from multiple sites through your existing network. With all the functionality inherited from CAS 2000, It provides additional features to manage all the remote sites across your network. It is one of the most cost effective solution for consolidating call data and is widely used among today's local and international carriers.
Easy Configuration
You can startup with the minimum configuration of one server and one client, and upgrade to any number of clients. At a preset time of a day, the server initiates polling through your TCPIP network and collects all preprocessed call data from clients. This way the computing power of all client machines can be fully utilized. There is no limit to the number of clients.
Web Integration
CAS MSPS, together with our customized Web browser, provides a perfect solution for domestic and international carriers to add valuable service for their customers, enhancing their company image, and reducing large overhead for bill inquiry. There is no need to reply on time-consuming and expensive mail delivery any more.
Great Control and Flexibility
Downloading important information such as tariff rate, account code, FAC and organization table has never been as easy. The server is capable of updating client database regardless of their distance; all the information will be completed within seconds.
Features

Tariff

Supports Microsoft 95/98/XP/NT/2000 in both Chinese and English operating system.

Multiple language in one single product.

Multi-carrier, multi-vendor, multi-currency and user-defined VPN.

Support all world currencies and call costing methods.

Full set of reports for each site, plus consolidation reports for organization.

Report output to printer, screen or file that can be supported in MS Excel.

Scheduled and batch printing.

Advanced filtering criteria for report analysis and user-defined report.

Create a report that lists information concerning calls grouped according to the parameters and filters by department, extension, business number, cost charge, call duration, call type, trunk number and etc.

Auto insert the trunk number.

Provides 4 time segments for rate.

Provides initial and additional charge for entire call.The duration adjustment in seconds added or subtracted per call.

The minimum duration of call, any call below this duration will be ignored and will not be saved into the database.

The fixed service charge added to the cost of the entire call. Setting the different charge scheme for different trunk number.

The markup or markdown percent applied to any type of calls, such local, domestic or IDD calls.

Provides holiday table for discount rate.

Provides user to recalculate all charges at any time when required.
| | |
| --- | --- |
| Report Name | Description |
| Department Detail Report | Lists each call for every FAC or extension grouped by department and division. This report may be used to charge employees for personal calls, keep track of telephone costs and spot telephone abuse. |
| FAC Detail Report | This report lists all phone calls, sorted by FAC, that were placed according to the FAC defined in the FAC table |
| Phone Bill Detail Report | Lists detailed calls for each trunk. |
| Account Code Detail Report | Account reports are generally used to bill customers or projects, based on the account numbers specified in the PBX database. Service departments or professionals (such as lawyers or accountants) can use the account reports to bill their clients, based on actual telephone usage. |
| Call Journal Detail Report | List each call by date and time. |
| Department Summary Report | Lists the total number of calls, total duration and total charges for every FAC or extension in each department. Totals are printed for each department. |
| Division Summary Report | Show total charges for each department grouped by each division in the organization. This report can be used in planning departmental budgets by making it easier to forecast telephone expenses. |
| Corporate Summary Report | Show total charges for each division in the organization. |
| FAC Summary Report | The FAC Summary Report lists the total calls for each FAC defined in the FAC table. |
| Phone Bill Summary Report | Summarizes the statistics for each trunk. The report lists the total calls, duration, and charge information for each trunk. In addition, it includes grand totals for all of trunks. |
| Account Code Summary Report | The Account Summary Report lists the total calls for each account. The report lists the information by extension for each account number. |
| Summary Report by Area Code | This report summarized call information grouped by the area code. |
| 24 Hour Traffic Report | This report provides call summary in a 24 hr-format. |
| Undefined Extension Report | This report lists all phone calls, sorted by extension, that were placed but not charged to a listed department. |
| Undefined Destination Report | This report lists all phone calls, that area codes not defined in the tariff table. |
| Network Summary Report | Provides the summary charge, total calls and total duration for each site. |
| Export Call Data Report | Download of all calls data to a text file. |
| Top Usage Report | Show extensions that have top usage according to number of calls, total duration or total charge. |