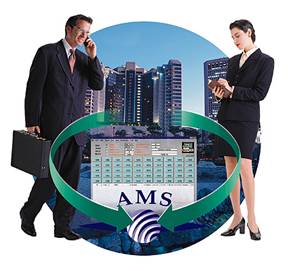 AMS International Limited is an international group specialized in developing telephone billing system. Founded in 1995, AMS has offices in Hong Kong and Taiwan, employing only highly qualified and dedicated engineers. AMS has a solid relationship with major PBX dealers, carriers, and has an authorized distributor network in the Southeast Asia. With multiple language capability, our products are exported to different countries and mainly used by large corporations such as banks, carriers, universities and companies with extensive telephone usage.
AMS offers a comprehensive range of products from call accounting system for offices, hotel and hospital interface, interactive voice mail interface, multiple-site network and centralized billing system, to highly sophisticated custom-made software for various applications which are capble of running on the most popular platforms such as Win9X, NT, Win2000, and XP.
Our superior design and quality gives us the maximum flexibility to cope with the most discriminating customer and to fit into their tight schedule and budget. With an ever increasing number of distributors, the company is experiencing tremendous growth even in recession times. Our popularity has enabled us to form partnership with major dealers such as Nortel, NEC, Avaya, Alcatel, Phillips, Fujitsu and etc.